I was excited to get another book by Suzanne Woods Fisher because she always has great writing and characters. I was even more excited when I found out it was part of a series that I had already started reading... now I just had to wait not so patiently for it to come in the mail. I cheereed when I opened it up but was sad because it had to go behind a ton of other books that were already on my shelf to read. Luckily,
The Devoted: A Novel (The Bishop's Family)
by Suzanne Woods Fisher came quickly to the top of the pile and I got a chance to read it.
Bright, curious, and restless, Ruthie Stoltzfus loves her family but is stuck in a sea of indecision about her future: Should she stay Amish? Or should she leave? She's done all she can to prepare to go--passed the GED, saved her money--but she can't quite set her journey into motion. Patrick Kelly is a young man on a journey of his own. He's come to Stoney Ridge to convert to the Amish and has given himself thirty days to learn the language, drive a buggy, and adapt to "everything Plain." Time, to Patrick, is of the essence. Every moment is to be cherished, especially the hours he spends with Ruthie, his Penn Dutch tutor. Ruthie's next-door neighbor and cunning ex-boyfriend, Luke Schrock, is drawn to trouble like a moth to a flame. Rebellious, headstrong, defiant, Luke will do anything to win Ruthie back--
anything
--and Patrick Kelly is getting in his way.
I have enjoyed this series a lot! This book was no different with the great characters and writing of all of Suzanne Woods Fisher's books. The characters are dealing with the difference between the Amish and English worlds and making the choice before they join the church. Ruthie is growing up a lot in this book and trying to make decisions while working as a tutor for an English boy, Patrick, who is looking to become Amish. The questions and calm introspection that Patrick has is a wonderful tool to help Ruthie make some of the tough decisions for herself. With the help of her Aunt Ruth who has joined the English world and become a doctor, Ruthie feels that she should make a difference in the world by helping people too. Ruthie makes lots of tough choices but you need to pick up the book and read about her and all the other great characters in the book. I hope that you add this book to your wish list because I know that you will enjoy it.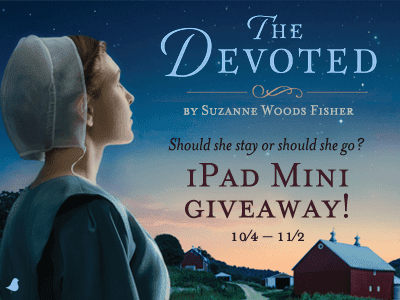 To celebrate the release of her new book,
The Devoted
, Suzanne Woods Fisher is giving away an iPad Mini!!
Head to this page
and click on the bar titled THE DEVOTED | SUZANNE WOODS FISHER.
*I got a copy of this book from the publisher to read for this review. All opinions here are my own and were not a requirement from the publisher.